How To Take Your Website Mobile
The great growth of the mobile web is bringing fantastic opportunities for every business. How can yours get started? What are the best opportunities for your brand, in the short, medium and long term? And how can you leverage your existing, "desktop" web presence and online marketing?
This essay details the different options for bringing your websites to mobile. It's useful to organize the options by investment required. In summary, they are:
Google Places, Facebook, Twitter, Amazon Market
Mofuse, Wapple, Atmio
Mobile Web Up
Usablenet, Moovweb
Mobify
Each have their strengths and shortcomings. Let's examine each in detail.
Leveraging Mobile Support of Social Media & Third Party Platforms
Social media provides an excellent way to get up and running quickly on the mobile web. This includes other third-party platforms that may not technically be "social media". Platforms such as Facebook, Twitter, Google Places, Yelp, and the Amazon Marketplace are all making heavy ongoing investments in the mobile web... providing an excellent mobile browsing experience for your prospects.
A simple example: Set up a QR code pointing to your company's Facebook page. The purpose of this campaign could be to drive fans and likes. You don't have to worry about optimizing the experience for smartphones; the platform creator itself takes care of that.
This approach certainly works well for smaller businesses and self-employed individuals, who may not have a large budget to devote to mobile. But its benefits extend to companies of any size... up to and including Fortune 500 enterprises.
Mobile Site Builders
To get the greatest benefit from mobile, you will ultimately need to create one or more mobile websites you control. Your team can do this quickly and easily by using a mobile site builder. Some companies doing this are Mofuse, Wapple and Atmio.
Each provides a web-based tool for create mobile-friendly web pages. The results are very high quality, working well across all smartphones. They also include a content-management system to make updates quick and simple. The cost is quite nominal; offerings with rich feature sets are available in the neighborhood of $100 per month with no up-front fee.
Mobile builders have two main downsides. The first is flexibility. A mobile builder will normally produce a high quality mobile design. However, you can only create elements that the specific builder supports. Sooner or later, you will want have some campaign that requires a kind mobile page or element that is beyond the builder's capabilities.
There is a second drawback that is more important: the mobile pages can easily get out of sync with your desktop web presence. You probably have a process internally for managing and updating content on your main website. Depending on your business and marketing plan, this content can change on a daily basis. Your team will need to use the separate CMS of the mobile site to make equivalent updates in parallel, at the same time. This requires a lot of institutional discipline, to the point of creating additional bureaucracy.
The solution lies in the next class of mobile web solution, called whole site mobilization.
Whole-Site Mobilization
This kind of service creates a mobile-friendly version of your entire web presence, using content on the main website(s) as a source. This brings some important advantages.
First, when content on your desktop site changes, the mobile site will immediately and automatically update itself, in most cases. Your team can continue to modify and update the site as they normally do. You won't have to worry about prices or sales copy being different on the desktop and mobile sites.
In general, the service requires no engineering or design changes on your end. The setup will also integrate well with your existing online marketing and SEO efforts. Pricing is generally between $10,000 and $20,000 in the first year.
Mobile Web Up's solution is in this category. To learn more about how well this approach may work for you, contact us to schedule a consultation.
Large Enterprise Multi-Channel
For very large, Fortune 500-level brands, a broader solution may be desirable that extends your web content to a spectrum of channels simultaneously: mobile web, mobile apps, tablets, social media, and other niche channels such as physical kiosks.
These typically have deployment times of 1-2 months, and minimum budgets of $50,000 to $75,000. For secure ecommerce, these fees are roughly doubled. Two companies providing this kind of service are Usablenet and Moovweb.
Utilize Your IT Staff
If you have web engineers on staff and are able to devote one or more of them to mobile, their biggest issue will be getting up to speed on the unique technical requirements. Because of how quickly mobile has grown, expertise in mobile web design is still rare.
Their progress can be accelerated by using a mobile development platform. The best is probably Mobify, who provide a technical toolkit and web-based service for web designers. It essentially allows a competent web designer to create high quality mobile sites based on a desktop site, with the content updating benefits of the more premium services above. Crucially, experience with mobile design is not required.
The main cost is the labor for the designers you assign to the project. Additionally, it's wise to allocate a few thousand dollars for them to purchase smartphones for testing, which they will need to add to over time. After, there is an ongoing monthly fee of $250 or higher for the Mobify service.
Free Mobile Marketing Consultation
Receive a free, one-on-one consultation with a Mobile Web Up specialist. We'll start with a few questions to help identify your best opportunities based on your company's current situation. We will then discuss any specific questions you may have about anything related to mobile technology, and recommend the best approach for your mobile web marketing - whether that is using Mobile Web Up, or one of our competitors listed above. Schedule your free consultation today.
What are the best opportunities in mobile for your brand - short, medium and long term?
Where should you start?
How can you take greatest advantage of your current online marketing?
Mobile Web Up makes your existing website mobile friendly. Get a responsive design that looks fantastic on hundreds of smartphones, stays in sync with your main site, is easy for your web team, and nearly future-proof.
Learn more or get started.
Case Studies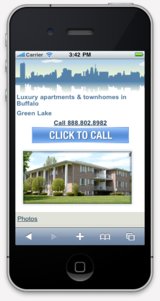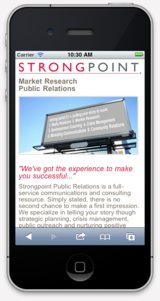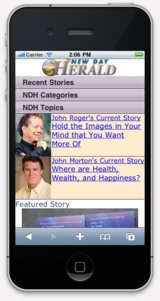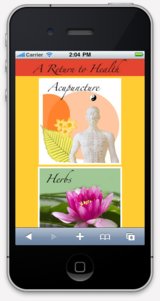 "We are very happy with your work... I will recommend Mobile Web Up whenever the opportunity comes up!"

Nadine L. Simon, Marketing Director, www.LuxuryAptsWNY.com
"How was the process of working with Mobile Web Up overall? FANTASTIC! I highly recommend Mobile Web Up, without reservation!"

Deborah Martinez, Web services manager, MSIA
"I nearly flipped because I knew if I was having trouble loading my website [on my phone], so was everyone else... They worked remarkably fast. I highly recommend asking Mobile Web Up to make your website transition smooth and easy to the mobile universe."

Angela K. Lee, L.Ac, A Return To Health Acupuncture